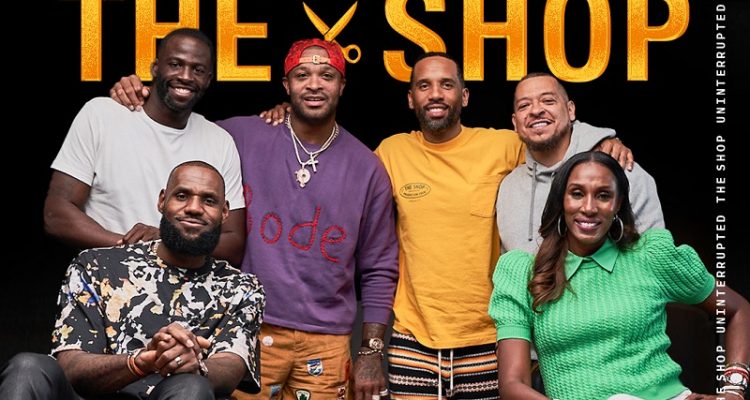 There was an "interesting" conversation on the most recent episode of "The Shop", LeBron James and Maverick Carter's roundtable-style show produced by their media company, SpringHill Entertainment. At around the 38-minute mark, the conversation of Season 5, Episode 7 shifted toward the WNBA. The discussion started off innocent enough with LeBron asking WNBA great, Lisa Leslie, what's one thing she would do to help the league out. From there, things just got weird. Leslie responded by highlighting the players' overall skill and complimenting the on-court product. She went on to talk about the pay gap between WNBA and NBA players. Then, it turned into a strange cocktail of misinformation, arrogance, and some lightweight misogyny, and they sprinkled a little outright lying on top for a little razzle-dazzle. There is already enough misguided dialogue around the WNBA's success (or lack thereof). For people with this large a platform, with one of the greatest players in league history in the midst no less, to have this type of discourse is irresponsible at best and problematic at worse. These matters need to be handled more delicately. The conversation surrounding support for the league can't be had in a self-serving manner. If progress is the true goal then at the very least, we have to start with honesty and transparency.
The tone of the conversation was thrown off almost immediately due to Draymond Green (who has other issues at the moment) interrupting Lisa Leslie while she was speaking on the pay gap between NBA and WNBA players. He seemed to take a defensive stance and from there, it spiraled into an exchange of thoughts that didn't nearly reflect reality. It also was weird because Green's rebuttal was unrelated to Leslie's comments. He said that the biggest supporters of the WNBA were NBA players. I have to say having covered the league for the last 4 years and being a fan since its inception in 1997, that is false. The WNBA has one of the most enthusiastic fan bases in sports. Do NBA guys show up to games? Of course, they do and it's a wonderful thing. But to label that basement level of support as the biggest for the league is disingenuous. Season ticket holders would like a word. Creatives who lend their time and talent to promote the league would like a word. Independent media outlets got something to say (à la Andre 3000 at the '95 Source Awards). There is a bevy of support that goes beyond NBA players attending games and tweeting. And this is not a shot at them. I love when the league guys show up for the ladies. But framing that support in the way that Green did is dismissive of others who put their blood, sweat, tears, and money into the growth of the league.
This topic went even further left in the moments after when Leslie suggested that the WNBA didn't acknowledge the NBA support or focus on the players. That statement in itself is false but coming from someone in Leslie's position, it's honestly plain disheartening. NBA players are shown ad nauseam at WNBA games. And there is nothing wrong with that. But for a legend of a league that treats their legends like they don't exist to peddle that lie is, how they say on Twitter, nasty work. Does the WNBA have a marketing problem? Absolutely. The league itself acts like only five players exist. They still haven't figured out how to convert fans from the college game. Some ladies go from superstars at the NCAA level to relative obscurity in the pros. Close to no emphasis is put on the great players from the past. None of that can be fixed by giving NBA guys more camera time at WNBA games. It also isn't lost on me that Draymond scoffed at the idea of supporting the league financially. Now I would never expect an NBA player or anyone else for that matter, to foot the bill for higher WNBA salaries. That's not their responsibility. But is there a way for them to put their money to use in support of the league? Of course, there is. Are they obligated to do that? Absolutely not. But to demand pats on the back, congratulations, and adoration for putting your foot on the bottom rung of the support ladder is ridiculous. That also sets a dangerous precedent moving forward for how the league is viewed. The success or failure of the WNBA is not contingent upon recognizing the men that support them. And the reason that the entire exchange was so off-base is that the league absolutely does recognize them. At NBA All-Star Weekend in Cleveland, Chris Paul was named the inaugural recipient of the Kobe & Gigi Bryant WNBA Advocacy Award. That is public recognition on one of the biggest stages in basketball. Showing Paul love is fine. But in regard to advocacy for the league, having him upheld as the standard is borderline erasure. People have built platforms from the ground up whose sole purpose is to amplify the league. And these platforms have reached unimaginable heights with little to no support from the WNBA itself. If you want to have a conversation about the visibility issues of the WNBA, I'm here for it. But the talking points that were presented in this case were dishonest and inaccurate.
Speaking of dishonesty and inaccuracy, the "Orange Hoodie" back and forth was just flat-out strange. From Leslie crediting LeBron with popularizing the item to LeBron suggesting that there was some type of opposition to getting the players the hoodies while in the Orlando bubble, the entire exchange seemed self-serving. For starters, you cannot have any type of dialogue about that hoodie that doesn't involve Eb Jones. She birthed the idea and strategically planned the rollout and distribution. Without her creativity and ingenuity, we aren't even having this conversation. A'ja Wilson's name should also be mentioned as she was one of the first WNBA players to rock the hoodie on the sidelines. Her not being prominently featured in WNBA promotion and marketing is another conversation in itself but I'm not going down that road today. Then, of course, we all know the defining moment for the Orange hoodie was Kobe Bryant sporting it courtside at a Lakers game. How Leslie concluded that LeBron wearing the hoodie in the bubble was its introduction into mainstream life is beyond me. And for James to double down and infer that there was some sinister force actively keeping the hoodies out of the bubble is laughable. By all accounts, ESPN and the league worked together to get the players the merchandise. Now, I could be wrong here, but a worldwide pandemic that dramatically affected shipping might've had something to do with the delay, even with ESPN's considerable resources. But to act like there was a concerted effort to keep LeBron from sharing the orange hoodie with the world is a tall tale of "Dr. Sebi cured cancer" levels. If this is coming off as a hit piece, it is. People need to be more responsible and intentional with their platforms. The WNBA has a lot of problems. It's very possible to discuss them in an honest way that can move the needle towards progress. What happened on "The Shop" was the complete opposite of that. That was a great opportunity to have a candid dialogue about some of the issues that are hindering the league from reaching its potential. I'm putting it mildly when I say the opportunity was squandered.
Perhaps the most disturbing thing about the whole interaction was Lisa Leslie. Let's be clear, I love Lisa. She is one of the greatest players ever and laid the foundation for what the WNBA is today. But this was a misstep for her. As I said before, the league isn't perfect. One of its biggest problems is how it treats its legends. Sheryl Swoopes once told a story about how she was asked to move out of courtside seats at the WNBA All-Star Game. I cannot fathom how that happens. If Lisa talked about that type of stuff, I would have no problem with that. If she talked about how it is damn near impossible to watch games, I would have encouraged her to let it rip. If she brought up the dysfunction of the WNBA League Pass or the scarcity of merch, I would have applauded her. But instead, she chose to drudge up things that are not only aren't accurate but harmful. I would have expected her to protect the league better than that. And every conversation about the WNBA or women's basketball doesn't have to revolve around "What can they do better?". There is space to celebrate the positive things that are happening. You can talk about people like Esther Wallace, the creator of Playa Society, which produces some of the dopest WNBA gear on the market. Melani Carter and Simran Kaleka, co-founders of Made For The W, have transformed how lifestyle, fashion, and sports are fused through content creation. Every conversation around the WNBA shouldn't be "They need to make more money". It's time to shift towards some solution-based discussions. For a legend to get on a platform of this magnitude and speak so recklessly is detrimental to the growth of the league. I'm not asking for her to be burned at the stake. I just want people to be more careful with their influence. One thing Lisa pointed out that is important to take note of is the league is only 26 years old. The NBA Finals were still on tape delay 40 years in. It takes a while for these things to materialize fully. But we should all be focusing on making the road as smooth as possible, not putting up speed bumps.