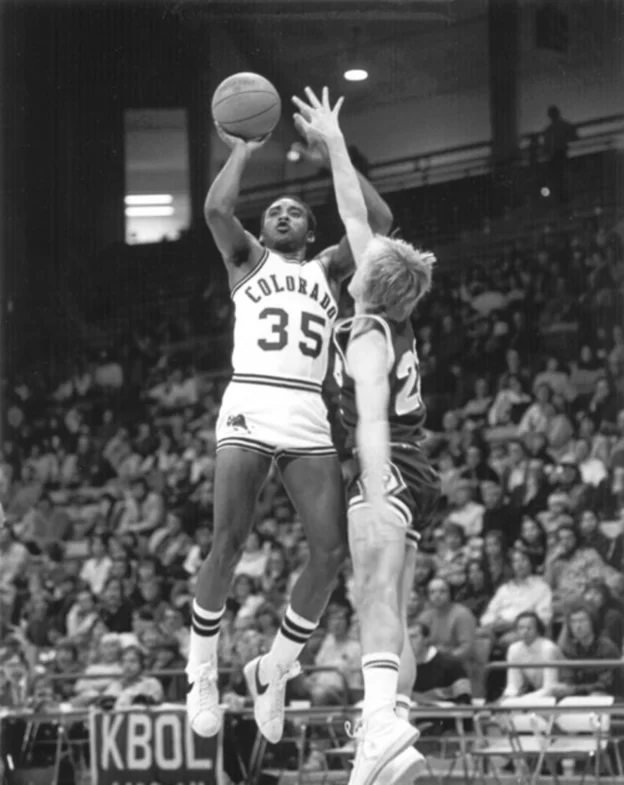 "Why is a brother up north better than Jordan that ain't get that break?" – Jason Terrance Phillips, Philosopher
You walk into any barbershop in any urban city in America and start talking about local hoops stars and one guy (or some guys) is always going to come up as "the one who was supposed to make it." In D.C., depending on the age group, a name that's certain to come up in that conversation is Anthony Hunter. That really felt awkward to type because I've only heard him referred to as "Jo Jo" after Celtics legend Jo Jo White due to his sure hand on the court, regardless Hunter was the goods in between those lines. And this isn't your typical "Was amazing on the blacktop but never showed what he could do under the whistle" hood legend. Jo Jo was official. So official in fact that his play in a rivalry game against DeMatha had Morgan Wooten himself navigate his way through a sea of people just to find Hunter and let him know he was the best player in the gym. Jo Jo was special. He was on the NBA radar in high school. A guard having serious pro interest without stepping foot on a college campus was unheard of in the mid-70s. And it was warranted. Remember when I told y'all about the Urbo? The Bullets fielded a team in the league every summer. Jo Jo was just as effective against pros as he was against dudes who were trying to figure out what they were wearing to the prom.
Hunter's legendary career started at Mackin Catholic High School. Mackin shut its doors in 1989, but it was one of the local powerhouses in the area during its time. Some of the best players D.C. has produced came through those doors. Guys like Austin Carr, Duck Williams, Johnny Dawkins, and a guy by the name of Curt Smith (the fact that this name has surfaced in almost every story so far should have you teeming with anticipation for his). DeMatha casts a ridiculously large shadow over the other programs in the D.C. area but Mackin has an extremely reputable legacy in its own right. Mackin competed in the Metro Catholic Conference which eventually morphed into the vaunted WCAC, which has been long considered the best conference in the country. Mackin and DeMatha routinely battled for supremacy. Those games were box office. They had to be hosted at alternative sites because neither of their gyms could accommodate the crowds. And during Hunter's years there, he had some of his greatest moments during those showdowns. To call Jo Jo Hunter a star would be like simply calling a McLaren a car. Hunter was a supernova. When he started his first high school game, there were 4 future NBA players on the floor. And while Hunter had a pedestrian game by his standards, he showed he belonged. But soon, it became evident that people were witnessing something different. By the end of his freshman season, he was simply known as "Jo Jo". His coach, Harry Rest, bestowed the nickname because he said his game reminded him of the famed Celtics point guard. From then on, the legend grew to unspeakable heights. At that time in D.C., the city was loaded with talent. Well, I suppose that's anytime in D.C. but I digress. You had guys like Adrian Dantley, Kenny Carr, Charles "Hawkeye" Whitney, John Duren, and several others doing their thing across the city. And Hunter was right in the thick of it. Dantley was one of Hunter's biggest rivals and he eventually was immortalized in the Hall of Fame. Anyone who watched the two go at it back in the day would have assumed that Jo Jo was destined for a similar trajectory.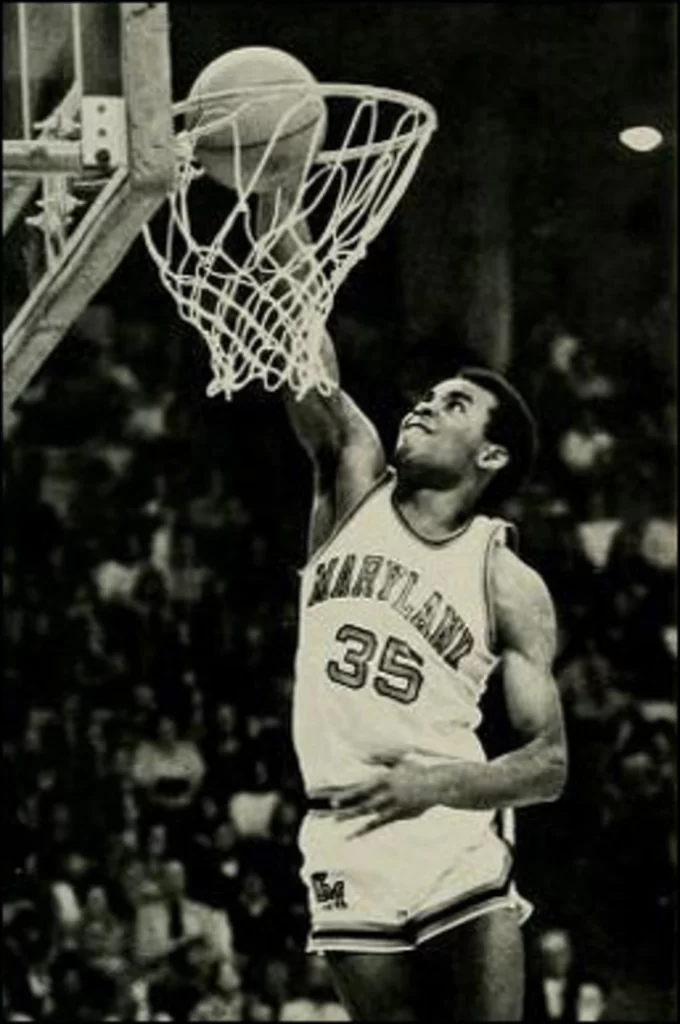 When you look back on how Hunter's high school career progressed, he's definitely one of those guys that invoke the "Man if social media was around back then……" trope. The hype that surrounded him as he matriculated through school was out of this world. His coach had to put college recruiters on a schedule. And given recent developments due to Spencer Haywood's groundbreaking legal victory over the NBA in 1971, Hunter flirted with the idea of going pro straight out of high school. This is monumental for several reasons. The first being only three players had gone straight to the big time as prep stars. Darryl Dawkins and Bill Willoughby were drafted into the NBA and Moses Malone went the ABA route. But here's what's unique about Hunter. He was a point guard. Even more intriguing, he was a scoring point guard. That style of play wasn't embraced at the pro level at that time so you can imagine how phenomenal he was to even have this opportunity. And let's make one thing clear, he didn't go to the league because he decided not to. The 76ers wanted him. But Jo-Jo followed his mom's wishes and went to college. He says in retrospect, he wishes he would have pursued the NBA. Hunter's recruitment reached borderline harassment levels. Everybody was on him. When I say everybody, I mean everybody. Even Dick Vitale, who was the coach at Detroit-Mercy at the time, was in contention to acquire Hunter's services. This wasn't a phrase yet but Vitale definitely would have had Hunter on his "Diaper Dandies" list. Making teams up there recruiting and traveling budgets to try to get you on campus means you're a bad dude. Many prominent college coaches had perfect attendance at Mackin's practices. Ultimately, Hunter chose to stay local and go to the University of Maryland under Lefty Driesell. He wasn't alone as the Terps were loaded with homegrown talent. Eventually, the team dispersed and Hunter ended up at Colorado where he had two successful seasons. He averaged 17 ppg while shooting 51% from the field and was named to the All-Big 8 First Team in his senior season. Hunter ended up being drafted by the Milwaukee Bucks in 1981 but was released before the season started.
Jo Jo Hunter's senior year of high school reads off like a movie script. He averaged 38 ppg, with no three-point line mind you, but that didn't stop him from putting the shooting range on display. At this point, he was a local celebrity and a folk legend to everyone outside the D.C. metropolitan area. Hunter was named a Parade All- American and as previously stated, had every major college salivating over him. The apex of that season was a January showdown with DeMatha. The game was highly anticipated not only because of the shared history between the two programs but the two leading scorers in the conference finally butted heads. Of course, Hunter was Mackin's top dog. The man that was at the helm for DeMatha was Charles "Hawkeye" Whitney. Whitney was an All-American, went on to play four years at NC State, and was a first-round draft pick of the Kansas City Kings in 1980. Unfortunately, a gruesome knee injury cut his pro career short. But back to this game. Just like all Mackin/DeMatha matchups, this one was standing room only. Tom Boswell said at times, these games would be so packed, you could find people sitting in between your legs on press row. This game was no different. The stars did not disappoint. Hunter finished with 38 points and Whitney exceeded that output with 41 pts, securing the win for the Stags. Even though his team fell short, Hunter's performance captivated everyone in attendance. None more than the opposing coach. If you've been anywhere near basketball in this country in the past 60 years then you've heard the name Morgan Wooten before. Wooten was so in awe of Hunter that he made a beeline for him immediately after the game just to give him his props. Morgan Wooten wasn't the only legendary coach who was enamored with Jo Jo Hunter. Stu Vetter, who recently retired, is basketball royalty. He has 3 national championships, is the only coach in history with 3 chips at 3 different schools, he's won 89% of the games he's coached, has coached a litany of great players which include Randolph Childress, Kevin Durant, Dennis Scott, George Lynch, Exree Hipp, and many others. Listen the resumé is longer than a CVS receipt so I'm just going to move on. But despite all that success, in the 70s he was a fresh out-the-gate coach who was so fascinated with Hunter that he routinely drove his team up I-66 W to see the local legend go to work. Hunter unknowingly became a huge influence on Vetter's early Flint Hill teams and players most notably being Mike Pepper who was the first Flint Hill player to go D1 and played on UNC's 1981 Final Four team. Jo Jo Hunter defined what it meant to be a superstar at the high school level.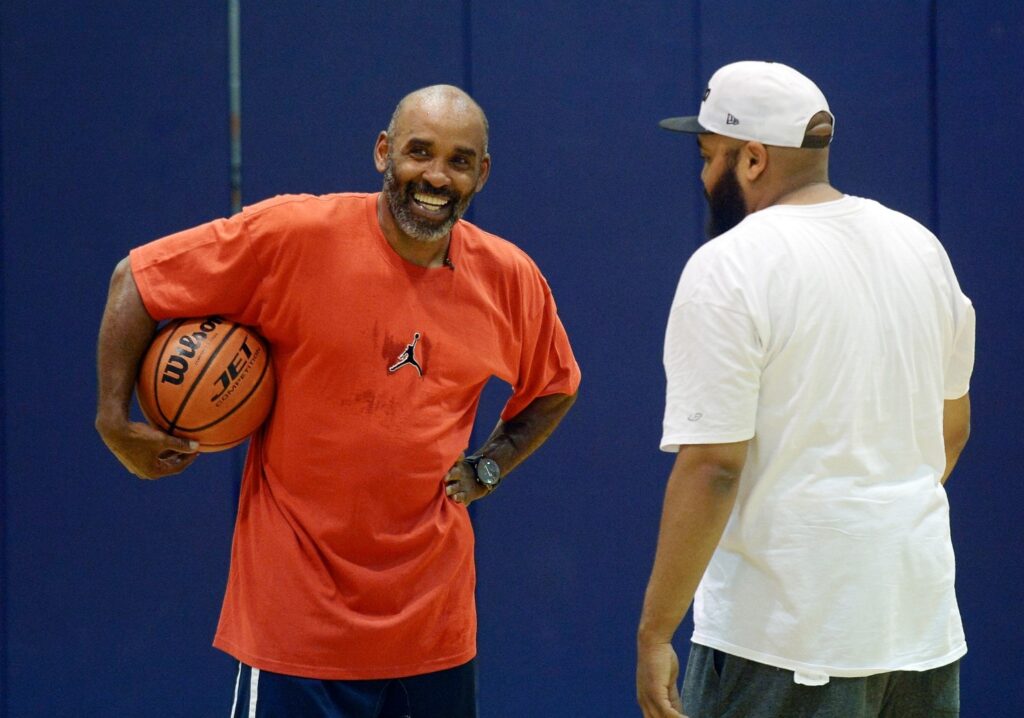 I've just spent about 1,500 words talking about how great a basketball player Jo Jo Hunter is but his true lasting legacy has nothing to do with how many points he scored. Later in Hunter's life, he got into some legal trouble which I will choose not to go into detail about, and resulted in him having to serve time in prison. But there was beauty in the aftermath of those unfortunate circumstances. His trial commenced in 1997 and under the terms of his original sentencing, his first opportunity for parole would not have been until 2044. Thanks to a community that fought vigorously on his behalf, he has enjoyed 9 years of freedom instead of still possibly dreading 22 more years of imprisonment. Harolyn Harrison (cousin) and her husband Jesse organized a campaign for the US Parole commission to grant Hunter clemency. And the response from the D.C. basketball community was massive. A community that included Dave Bing, a D.C. basketball legend in his own right, who was serving as mayor of Detroit at the time. James Brown, a former DeMatha standout and renowned sportscaster. Kermit Washington averaged 20 points and 20 rebounds at American University and played ten years in the NBA, and several other prominent figures from the area wrote letters on his behalf which ultimately led to his early release. The way the city rallied around Hunter was amazing. When his legal troubles began, the initial response from almost everyone that knew him was rooted in shock and disbelief. But instead of just being sad and leaving him to his fate of nearly 50 years behind bars, his friends sprang into action. To see a community rally like this and allow a man to reclaim his life is an outpouring of love that is more meaningful than the adulation of the loudest crowds in a packed gym. Since his release, Hunter's main focus has been to pay it forward. He's started a basketball training service and makes sure to impart the wisdom that life's experiences have granted him to kids. Upon his release, Hunter was welcomed back into very familiar surroundings. Several players from his era gathered for a celebratory old-timers basketball game. That was a full-circle moment. The game that brought him immeasurable fame and through which he cultivated all the relationships that ultimately led to him being able to escape the disparity of prison was right there to greet him. I'm sure he wouldn't have wanted it any other way.
Anthony "Jo Jo" Hunter is undoubtedly one of the greatest basketball players ever from the D.C. area. A legendary figure whose story needs to be told. Hunter should be held up with the giants of the game. And the game still flows through him. You can find still find him in your neighborhood 50 and over league looking just as sharp as he did when he was packing out gyms at Mackin.