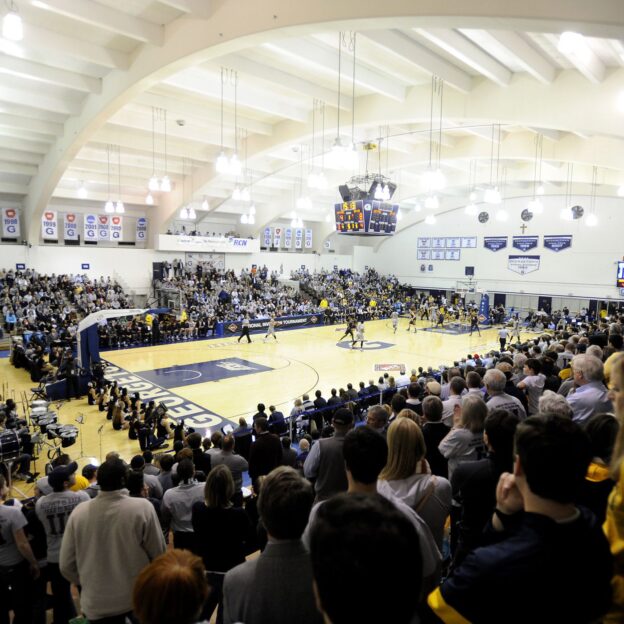 Thursday, August 4th, 1994. I'm going out of order here. I usually lay the foundation first but this week, we're getting straight to storytime because this one can't wait. It's also personal. This was the day that I, along with the rest of the city, would be introduced to the phenom that is Allen Iverson. A.I. hadn't played organized basketball in more than a year, but the city's anticipation was at a fevered pitch since he announced he'd be playing at Georgetown a few months prior. I'm a 10-year-old kid in the front row at McDonough Gymnasium and little did I know, I was about to go through a transformative, life-changing experience. I've been to countless games at the Kenner League and this is by far the most electric the building has ever felt. Almost 1,000 people packed into the gym on Georgetown's campus and the buzz was palpable. You could feel the intensity. You could hear the whispers of "Chuck about to play". I was waiting for the hero to emerge and this scrawny-looking dude comes out of the crowd and I remember my first thought being "That's him?'. The thought came across my mind with the same dismissive tone that Kennard expressed when he first saw a gimpy Omar on The Wire. But as soon as the ball was tipped, it became clear that we were all in the presence of a legend. It was nothing like I'd ever seen before. Like I'd seen little guys play well. But I'd never seen the smallest dude on the court be head and shoulders better than everyone else. A.I. had 30 pts in the first half and destroyed everyone who stepped in front of him. 6'0″ (really like 5'10") and 160 lbs soaking wet and nobody could do anything with this guy. If I told you I knew what he would become at that moment, I'd be lying. Come on, a 10 yr old with that kind of foresight isn't even realistic. But what I can tell you is his progression was not surprising to me in the least bit. Rarely, is there a definitive moment in DC basketball history that isn't centered around a player from the city but A.I.'s Kenner League debut is legendary. John Thompson himself said it was one of the most exciting atmospheres he'd ever experienced at McDonough. And not just related to the Kenner, but period. Now that we've gotten that out the way, let's get into this history lesson.
Last week, I introduced you to the Urban Coalition. The Urbo vibe was different than the Kenner League. This was probably due to the venues more than anything. Don't get me wrong, the neighborhood definitely came out for the Kenner, but the Urbo was a little more rugged. The Kenner League was refined. The Urbo was raw. The product was equally as impressive in both leagues but they had contrasting atmospheres. The Urbo was DMX and Jay Z battling at a pool hall in the Bronx. The Kenner was like their tours, more of a production. (Yes, I just used some New York shit to describe some DC shit. Kiss my ass, so what, I don't care. Just respect the genius imagery and move on with your life.) But both leagues were dope in their own right and served different purposes. A little backstory on the Kenner. Its namesake, James "Jabbo" Kenner, was a heavyweight boxer from DC. He had major influence in the city and served as the first director of the Metropolitan Boys Club in 1937. He was a mentor to several notable figures in DC as young men including Sugar Ray Leonard, former Georgetown players John "Bay Bay" Duren and Craig Shelton, and legendary DC radio personality Petey Greene. Maybe his most famous mentee and his direct link to the Kenner League besides providing its nomenclature, John Thompson. He founded the Kenner League in 1982 and named it in honor of the man who guided so many district youths. Thompson was no stranger to summer league basketball. He was on the board of the Urbo. The Kenner was birthed from Thompson's desire to have a more structured environment for his players to get some work in during the summers. As I said, the Urbo was almost like a blacktop experience in the gym. No air conditioning, people rushing the door, you might catch a hint of the devil's lettuce in the air. Thompson established the Kenner League at the school where he had already begun to carve out his own legacy. The league was NCAA certified, the only one in the district, and attracted talent from all the area universities. Throw in a mixture of pros and some local guys who could get it done, and you have the perfect basketball cocktail.
Of course, the Kenner didn't start in its final form. It took about four years for it to really pick up steam. The on-court product was immaculate from the beginning but with it becoming a rite of passage for incoming Georgetown prospects to play there and local media starting to pay attention, the Kenner League started to take form around 1986. It began as a showcase of sorts for college players but with the senior division being introduced, it morphed into one of the greatest Pro-Ams ever. Several notable legends like Patrick Ewing, Alonzo Mourning, and Dikembe Mutombo all slugged it out on the Kenner League courts. John Thompson leveraged the league into a de facto training camp and used it as a way for his players to be able to square up against high-level competition during the summer. Pros that didn't have local ties would also make the pilgrimage to DC. It became an integral part of the city's basketball culture. As Georgetown continued to make its mark on college basketball ultimately winning a national championship in 1985, it had a residual effect on the Kenner League since they occupied those hallowed grounds during the summers. It's only befitting that a man born and raised in DC was at the helm of both of these hoops institutions. John Thompson was the man on the sidelines for the Hoyas and he is the person who brought the Kenner to life. Eddie Saah, another local basketball legend, ran the league for more than 20 years until Nike took it over in the mid-2000s. The Kenner is still going strong and will be back this summer after two years of inactivity due to COVID.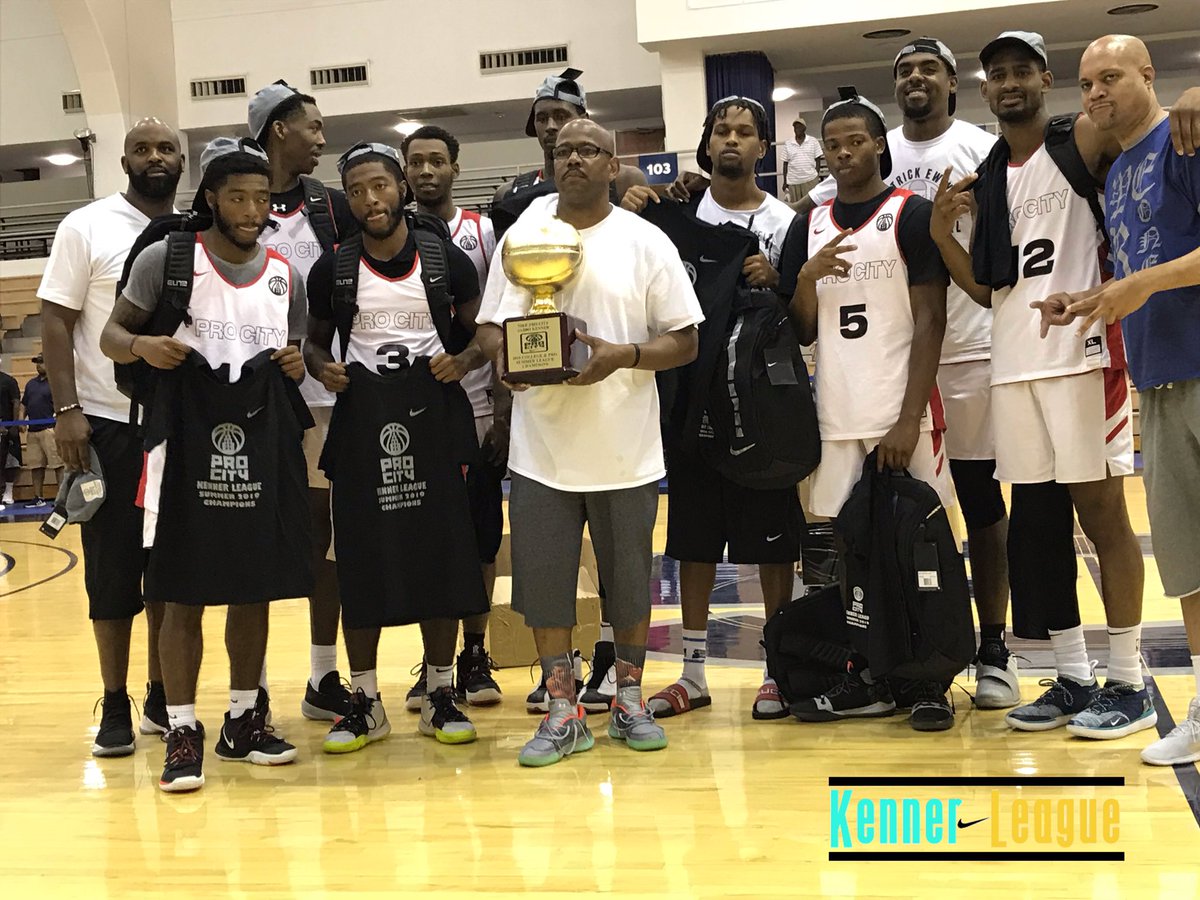 Now I know we already did storytime for this post but it would be downright sacrilegious to write this post and not include possibly the greatest game in Kenner League history and the greatest summer league basketball game I've personally attended. If you've been paying attention, you might have seen me mention a guy by the name of Curt "Trouble" Smith a couple of times in these blogs. He is basketball royalty in DC and of course, was a staple at the Kenner League. On the other side of this tale was Steve Francis. If I have to run down his resumé, then you probably haven't made it this far anyway. Anyway, this was a battle that should be circulated just as much as Kobe and KD's games at the Rucker. But alas, there was no recording allowed at the Kenner League and this happened before cell phones turned everyone into a videographer. It was the summer of 2000 and this was the most anticipated matchup of the summer. Steve had a team called the Francis Hitmen and it was aptly named because they definitely killed folks. The roster read like an NBA team. It bolstered the likes of Moochie Norris, Lawrence Moten, Cuttino Mobley, Walt Williams, Jerome Williams, Obinna Ekezie, Jahidi White, and Victor Page. And guess who they lost to? Curt Smith, Lonnie Harrell, and literally some guys. It had everything you'd expect from a summer league game of this magnitude. Packed gym, high profile one-on-one matchup, a whole lot of shit-talking, buckets, and a dramatic finish. Curt, Lonnie, and the Miracles beat Steve and the Avengers by one point on a Curt Smith floater. Franchise showed out. He put up 59 points, showed off the bounce, put the handles on display, and knocked down some deep threes. That's a great day at the office and usually ends in a win. Unfortunately, Curt was "trouble" personified for Steve and crew this game. He finished with 62 points. And he gave it to whoever stepped in front of him. Scored from everywhere in a myriad of ways. Curt wasn't as physically imposing as Francis, standing at 5'10" and weighing about 190 pounds, and nowhere near as athletic, but that didn't stop him from outdueling the future NBA All-Star. This is one of those games where you think someone is embellishing and they're giving you some Paul Bunyan/John Henry type shit but I can assure you the legends are true.
Whenever DC hoops is discussed, the Kenner League will always make its way to the forefront of the conversation. From the impact its namesake had on the athletic scene in the city to the many captivating moments it has produced on the court, the Kenner embodies everything that makes DC basketball special. And even with the relative ignorance of its existence by the general public, its impact cannot be denied. It became a blueprint for several pro-ams that followed. Some of the best players the game has ever seen made their mark here and the legacy continues to be written by the new generation.