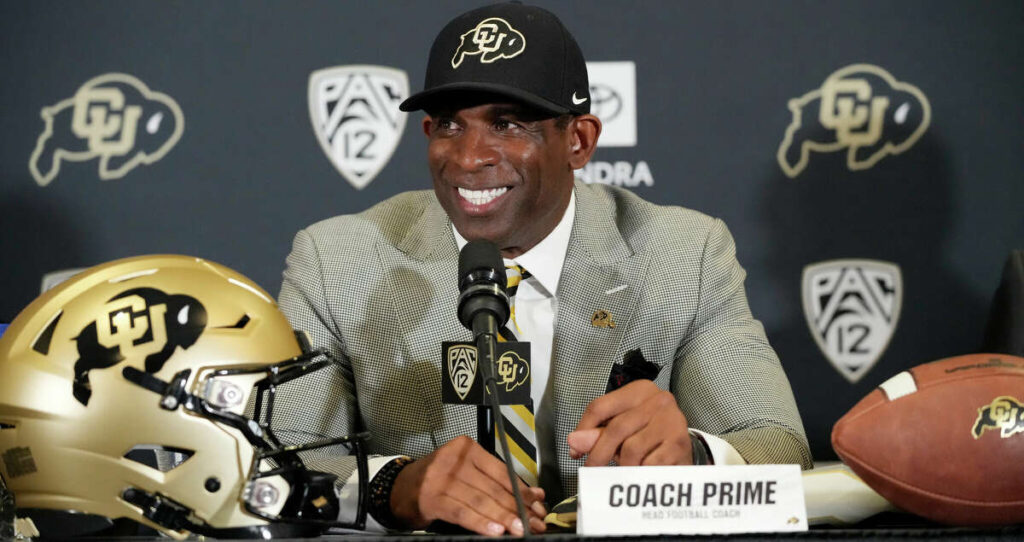 It's been a little over a week since Deion Sanders officially took the head coaching job at the University of Colorado. As expected, people put their thumbs and mouths to work to get their takes off. Some were insightful, some were emotional. Some were idiotic and void of context and nuance. But no matter how you feel about the move, the fact of the matter is there was work left undone in Jackson.
That statement is not meant to be a criticism or slight towards Prime. As far as I'm concerned it's simply stating the obvious. I'm truly mystified as to why people don't see it that way. If you compare what he did to what he said he was going to do, then it's impossible not to see that there was some meat left on the bone. Again, not a criticism. I don't think it's a mystery as to why his pregame meals will be unseasoned moving forward (It's not lost on me that he's already had a flavor mishap at a local breakfast spot). It was a great opportunity and I sincerely hope he does well in his new position. I can also acknowledge Sanders' departure was abrupt and premature. I think the reason why a lot of people are disappointed is that he was absolutely trending in the right direction to fulfill his promises. It's alright for folks to take issue with that. You can't promise to build Motown, drop one record, then dip. Imagine if Berry Gordy pulled the plug after "Shop Around" moved a million units and went on to supposedly greener pastures and started working with Elvis. You get what I'm getting at?
And if I'm being real about it, Deion is giving me big Lou Smith vibes. This man popped up on Will at work and convinced him he was interested in building a lasting relationship. Took him to the carnival, had him on cloud 9 for a few days then rolled out. And not only did he roll out, but he also tried to do it covertly. The connective tissue for this analogy is this statement from Lou: "This job could lead to another big one and I gotta stay flexible, you know what I'm sayin'." Hence why Deion made it clear that he would entertain Power 5 opportunities if they presented themselves. I seriously doubt he sees being the head coach at the University of Colorado as the apex of his coaching career. And I'm not mad at that. Climb the ladder as high as you want. But in my humble opinion, he could have left all that extra sauce off from the beginning. All that "God got involved" and "I'm here to change the landscape for HBCUs" was unnecessary if he only intended to use this job as a springboard for other opportunities. He could have easily just kept it at football. Not to say there wouldn't be criticism regardless but at the very least, you wouldn't be on the Summer Jam screen contradicting yourself. He burdened himself with those lofty expectations knowing full well it was highly unlikely he'd be at JSU long enough to meet them. He has to take any reasonable criticism that comes his way as a result of that on the chin. The game is the game. But buddy let me tell you this, ducking media availability and high tailing it to Boulder on a private plane before the team bus pulled out of the arena probably wasn't the best course of action. That being said, it's not lost on me that his time at JSU was always going to be determined by his level of success. I'm not naive. If he was winning 6 games a year and he wouldn't have had the opportunity to leave after two seasons.
And now let's get to the uncomfortable part of the conversation. Many of you who are saying "LOOK AT EVERYTHING HE DID FOR HBCUs!!!!!" are terribly misinformed about what he actually did. Now don't get me wrong, Jackson St. and the SWAC benefitted from his presence. That is undeniable. But I feel like some are trying to give him credit for establishing a culture that was in place before Deion Sanders was thought of. The biggest contribution Deion offered was creating exposure for what was already there. And he should be applauded for that. But if you think he's going to recreate the HBCU experience in Colorado, I just obtained my real estate license and there is a bridge in Brooklyn I think you'd be interested in. Y'all are going to be highly upset when he runs out of that tunnel to the band playing Led Zeppelin every week. SWAC football didn't become all that it is when Primetime arrived on campus. Walter Payton went to Jackson State. Eddie Robinson Sr. and Jake Gaither created some of the greatest legacies in college football while roaming the sidelines at Grambling St. University and FAMU respectively. This wasn't an "If you build it, they will come." scenario. It was already built. Deion brought much-needed attention and mainstream media interest to the situation. His star power and charisma brought the top recruit in the nation to Jackson St. and helped him secure the best recruiting class in recent history for an HBCU football program. His celebrity status also garnered corporate interest. Again, he could fill in the gaps financially in a way that was sorely needed for Jackson St. And I'm sure the students, athletes, alumni, and admin are grateful for what he did in his short time there.
Now brace yourselves because I'm about to make your collars tight again. If you're going to have the conversation about what he brought, you have to have the conversation about what he's taking away. While I certainly hope this isn't the case, like most of us I live in the real world with bills and responsibilities and have to face reality. All the fanfare, media attention, celebrities popping up on campus, and top recruits heading to JSU, all of that will likely fall by the wayside. Travis Hunter will be following Sanders to Colorado. This is something that can't be replicated. It's not an indictment on Deion or the young men who transfer. But "changing the landscape for HBCUs" takes more than 3 years. That's not long enough to get people used to seeing that caliber of recruits valuing those schools as desirable landing spots. At the very least, I expected him to see a recruiting class through and put a few guys in the league. Travis Hunter and Sheduer Sanders will be in the NFL at some point. It would hit a little differently if during the first Monday Night games of their rookie seasons they said "from Jackson St. University" in their player intros. I knew Deion wasn't going to make JSU his permanent residence. He didn't have to make it a truck stop though.
Another thing, let's stop acting like this was an act of charity. Sanders got something out of the deal as well. He got to sit in the big chair his first time out with full autonomy over the football program. And did so without having a resume that warranted that level of free rein. Thankfully it worked out for all parties involved. He got a chance to show what he was capable of with no interference. It's an opportunity he would have otherwise never been afforded without Jackson St. (and Talladega College where he completed the FASTtrack program to earn his bachelor's degree). When no Power 5 school was willing to bring Sanders on, JSU gave him his shot. And that wasn't an act of charity either. They knew they would benefit from bringing him on which is fine. This relationship was more transactional than people are willing to admit and that muddies up the entire conversation surrounding his swift exit. Part of the benefit of having someone of Prime's stature is he can bring light to the issues that have plagued HBCU athletics and help secure the resources to address them. And he said that's what he planned to do. In an interview on the "I Am Athlete" podcast in June 2021, Deion proclaimed himself a "conduit for change" in response to a question about how HBCUs will be able to compete with PWIs with more resources. Pretty much every time he was confronted with questions about how he would navigate around the disadvantages he would face in his new role his rebuttal centered around him being the catalyst to rectify those issues. I get it, man. I truly do. Overpromising is a part of showmanship and building a brand. But this felt a little different. Every coach in every introductory press conference says "We're building something special." and all the other cliches they know alumni, boosters, and fans want to hear all while knowing if a more high-profile school comes calling they're packing their bags. But talking about knocking down systemic barriers that have plagued these institutions for decades shouldn't be part of a sales pitch. That goes beyond football. Talking about coming to the rescue of Black people being shorted by the system puts a little more weight on your shoulders than saying "I'm here to hang some banners and get a few kids to the NFL."
When you consider the history of HBCU athletics and how they were strategically decimated over the years, it gives a different context to the conversation as well. PWIs weren't integrated out of the kindness of white people's hearts. They saw the writing on the wall. They saw the superior talent at these predominantly Black institutions. Even with greater resources and better funding, the PWI product was not at the same level. The cosmic shift happened when the talent started to disperse. They couldn't keep seeing the likes of Deacon Jones, Willie Lanier, and Jackie Slater (Jackson St. grad btw) continue to land on HBCU campuses. Even in other sports, the secret game John McClendon had against Duke while coaching at the North Carolina College of Negroes (now North Carolina Central University) at a time when an integrated game was illegal showed the supposed blue blood school that from an athletic standpoint, they simply could not compete. They used the bells and whistles to lure Black athletes away from places that were created for them out of necessity because of racism. Once this happened, HBCUs naturally suffered. That has to be considered when a guy like Deion comes in and has the ability to immediately bring 5-star talent to schools that have been deemed "unworthy" of that level of player for years. That cache will now follow him to the Centennial State. I cannot in good conscience hold it against people for feeling like that's a punch to the gut.
I can't emphasize enough that I'm not mad at Deion Sanders. I hope he does amazing things at the University of Colorado. I also can't emphasize enough that he did not meet the expectations that he voluntarily placed upon himself. It's ok to hold people accountable for their words. And fixing these issues isn't all his responsibility. ESPN can bring their cameras to SWAC games whenever they want. Big-time corporate sponsors can still stroke checks. Celebrities can come to games. The government can stop withholding billions of dollars from predominantly Black institutions. But despite all that, you can't fault people for being slightly disappointed when an architect bails on a project right after the groundbreaking ceremony. But in the spirit of fairness and accountability, if all the people complaining about Deion leaving watched the games and bought merch as they do for Ohio State, Duke, UNC, and all the other schools their grandparents wouldn't have been admitted to we probably wouldn't even need to have this conversation.