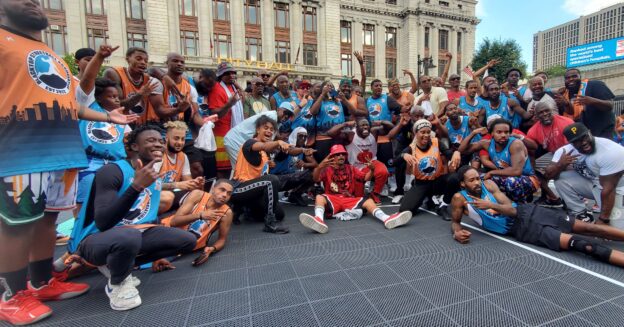 There has been a perpetual conversation surrounding athletes getting their just due. Ownership has been at the forefront of those discussions. We have seen NBA players sign monstrous deals but ultimately the billionaire owners reap the most benefits without dropping one bead of sweat. College athletes now have the opportunity to earn money through N.I.L. deals but they'll never be invited to the table to divvy up the billions they generate annually for the NCAA. Talent is the most important piece of any performative business. Without it, you have nothing. Managing that talent is oftentimes the most lucrative. The explosion of the And 1 Mixtape series showed us the lopsided nature of that relationship. Athletes should benefit the most from their talents. On Saturday, August 20th, in the shadows of Newark City Hall, the original And 1 crew birthed a movement that will reshape the landscape of how athletes approach business in the foreseeable future. The cornerstone of that movement: Blacktop Streetball Association.
Streetball has been around forever. People have been packing the parks for decades to watch basketball take place in its purest form. But for many years, streetball was considered too gritty, rugged, and disorganized to go mainstream. In fact, being a streetball player was often used as a derogatory term in hoops circles. That was until 1998. The And 1 Mixtape Vol. 1 changed the trajectory of the game forever. A collection of highlights featuring a scrawny kid from Queens, who the world would come to know as "Skip To My Lou" (his mama named him Rafer Alston), started a movement that would eventually spread across the globe. And while the first tape was extremely Skip heavy, he wasn't the only player that stood out. So out of a simple creative decision to add rap music over basketball highlights, an entire culture was unleashed on the world. Over the years, it grew to unspeakable heights and rivaled the NBA in popularity at its peak. A group of neighborhood guys were just doing what they'd been doing for free since they were kids, happened to capture it on tape, and before they could blink, they had a multimillion-dollar product on their hands. Players like Waliyy Dixon (Main Event), Anthony Hayward (Half Man-Half Amazing), Shane Woney (Dribbling Machine), Crafton Ferguson (Aircraft), and the aforementioned Rafer Alston (Skip To My Lou) who witnessed the phenomenon from its inception to its ultimate demise, saw the writing on the wall long before the well officially dried up. Now some of the original players are forming up like Voltron to revive the sensation. And with a little more experience and some life lessons under their belt, they are in a position to bag an 800-lb marlin to be on public display forever (as opposed to the "catch and release" they experienced in the late 90s and early 2000s).
The main draw of streetball was the authenticity and showmanship combined with the presence of high-level basketball. As And 1 became more successful, it became apparent that this was going to be a lucrative venture for whoever controlled this product. Corporate sponsors wanted a piece of the action and with that, things started to shift to a space where basketball was relegated to being a backup dancer while tricks and entertainment became the headliner. This severely diluted the product. This was allowed to take place because unfortunately, the players did not have decision-making influence within the company. They stuck around while the choices being made weren't conducive to long-term success until they couldn't stomach it any longer or the movement simply died out. And 1 unnecessarily and prematurely flamed out due to the essence of what made it so successful being stripped away in the name of a quick cash grab.
It's a new day. Streetball is back and the ballers themselves are in the driver's seat. And while basketball is the main attraction, in this iteration of the streetball movement, it's being used as a vehicle to promote messages of ownership, community, financial literacy, and empowerment.
The Blacktop Streetball Association officially kicked things off on August 20th with a festival right outside City Hall in Newark, New Jersey. It was a full day of events. Of course, they had to get back to the essence of streetball and had a 1 on 1 tournament. The winner will have the opportunity to go on tour with BTSBA when they hit the road next year. Then those in attendance were treated to a dunk contest. This wasn't your typical dunk contest though. It was a special format personally curated by Co-CEO Waliyy Dixon (Main Event). Being in charge of this portion of the festivities is right in Dixon's wheelhouse as he was one of the most electrifying dunkers in the original And 1 camp. "Main" threw a wrinkle in the contest by adding the elements of a game of HORSE so the contestants had to put on their creative hats to one-up their opponents. Throwing in an "Anything you can do, I can do better" component to a dunk contest is guaranteed to provide some fireworks. Jordan Southerland lived up to his reputation and emphatically shut things down with his own version of the "Scorpion Dunk" over two people. The "1 Foot God" showed how he earned his nickname. They capped things off with a 5-on-5 game that had its fair share of highlights. The And 1 crew weren't the only celebrities in the house. Al Cash, co-founder and the original voice of the E.B.C. at Rucker Park, brought the park vibes to 920 Broad St. as he blessed the mic for the duration of the event. Robert Wilmote, aka NDO Champ, lent his infectious energy to the festivities all day. He hosted an impromptu push-up contest where a lucky youngster took home $320.00. Dylan and Dakota Gonzalez interacted with kids, judged the dunk contest, and got in on the action in the pickup game. Their vibrant personalities were on display the entire day as they provided commentary and flicked it up with anyone who asked. Raekwon provided some halftime entertainment. A truly star-studded event that left no one disappointed.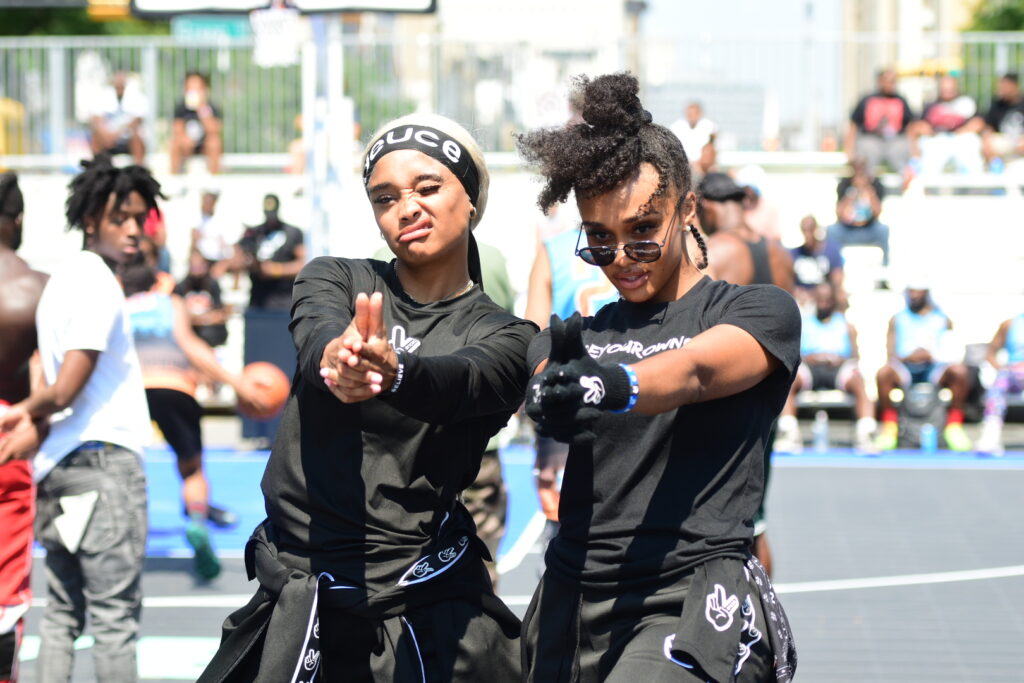 Although most of the day was fun, games, and basketball, from the onset of its creation, Dixon, his fellow Co-CEO Mark Bullock, and league commissioner Linda Hicks have made it clear that Blacktop Streetball Association's mission stretches far beyond the 94 x 50 ft dimensions of the basketball court. The common theme throughout the day whenever each of them addressed the crowd was that they emphasized that BTSBA was player driven and owned. The evolution in this process will be life-changing for those involved and everyone who follows them. One of the most important factors of the original And 1 movement was that it gave people an avenue to fulfill their hoop dreams outside of going to the NBA. I was born in 1984. I never thought that "Professional Streetball Player" would be a legitimate career option. And 1 made that a reality for many people. There are only 450 NBA jobs available. There are millions of basketball players. There has to be an alternate route to reach the destination of playing professionally. What those guys built created a never before seen dynamic in the world of sports. But the shareholders lacked the vision for the brand to have the sustainability it should have had. Several owners played hot potato with it until eventually it was dropped. And even without the huge corporate backing, the team remained relevant. Here we are 20 years later and the legacy they created has spawned two documentaries and had them featured in an Adam Sandler movie that took Netflix by storm when it dropped. This time around, the players are in control of their destiny. And not only are they armed with their knowledge and expertise, but they also witnessed firsthand what not to do to ensure the brand thrives. Dixon made it abundantly clear that this is will be nothing short of a revolution. For years, many have tried to reproduce the original And 1 vibe. The only group that could ever replicate that is the people who created it in the first place. This time they have complete autonomy over their product and longevity is the goal.
And again, this is bigger than basketball. In between the on-court theatrics, the crowd was treated to some crash courses in investing, money management, real estate, and overall financial literacy. This is what makes Blacktop Streetball different from its predecessor. The impact of And 1 was organic and just sorta "happened". They were living out their passions and people gravitated toward them. With this venture, the inspiration is targeted and intentional. As much as basketball is a part of all these men's lives, they understand that the world is much larger than an orange ball and round hoop. Taking advantage of the universal appeal of basketball and using it as a conduit to introduce people to other aspects of life they otherwise wouldn't have access to is what BTSBA is all about. Everyone in attendance was offered the chance to get a free stock market and real estate consultation session. To have people gather to celebrate the culture of streetball and then expose them to some life-changing information, free of charge, is how the organization sets itself apart. Reshaping one of the most popular sports in the world is great but leaving the world in a better place than you found it is a legacy that will outlast any athletic accomplishment.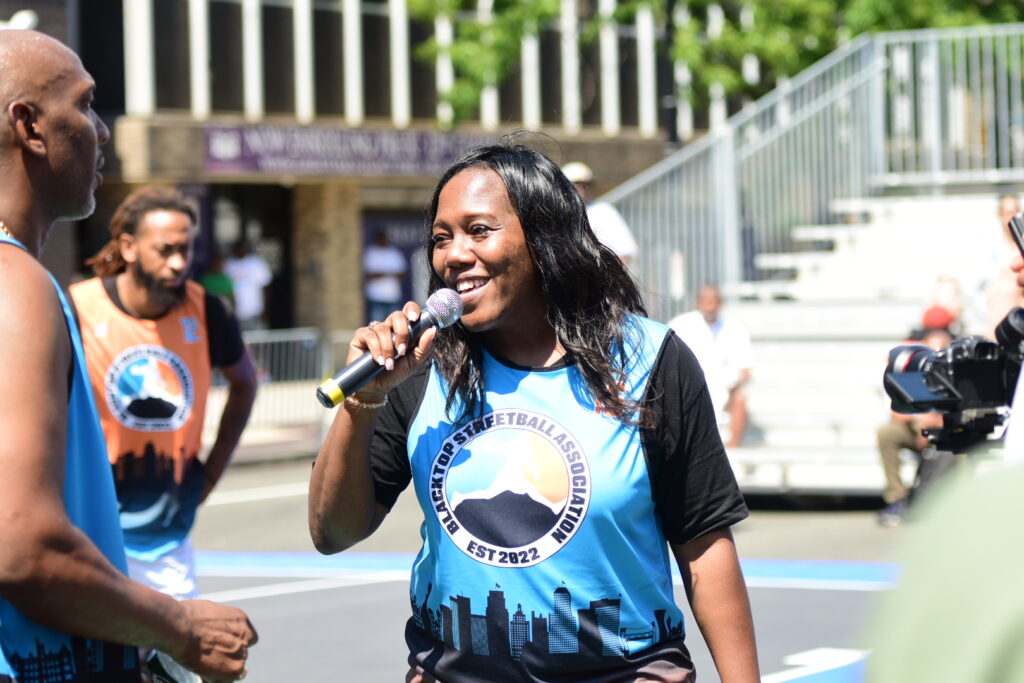 August 20th was just the beginning. Next year, BTSBA will go on a nationwide tour to find the best streetball players the US has to offer. When the dust settles, the 12 franchise owners (all original And 1 players), will draft their respective teams and the first official streetball league will be born. The odyssey of streetball has seen many twists and turns. It's gone from being looked at as a gimmick and sideshow to being a staple in the game. The NBA used to frown upon streetball. Now the current style of play in the league has been molded in its image. This next step in its evolution is long overdue but who better to get it over the finish line than the group of guys who established streetball as a force within the basketball world? Main Event, A.O., Prime Objective, High Octane, Half Man-Half Amazing, Hot Sauce, Baby Shaq, and everyone else involved in the original renaissance took streetball from the blacktop to the boardroom. They've come back to make sure it stays there. Now being stewards over their product and legacies, they can ensure that it stays in the right hands. They can make sure everyone who had a hand in building this thing up to where it is now will always be remembered and acknowledged, even if they are no longer with us. The Blacktop fam made sure to recognize the players who were a huge part of And 1's success that have passed on. Tyrone "Alimoe" Evans, Troy "Escalade" Jackson, and Antoine "Flash" Howard, will always be a part of the family. The Howard family will continue to be represented within the brand as Flash's younger brother, Kwame, will serve as an owner of the Chicago franchise. Blacktop Streetball Association is going to change the game. Get your popcorn ready.